Are you thinking of making a voluntary financial contribution to the Parish?
If you wish to make a contribution to support the parish's celebration with you, of any of the sacraments, a funeral or any other event or purpose, the attached Guidelines may help you work out an appropriate amount
200729_Guidelines_to_Making_a_Voluntary_Contribution_to_Parish
We Celebrate Pentecost
Pentecost Sunday – Sunday 5th June
Last Sunday we celebrated the Feast of Pentecost.  Here at St Therese's, we celebrate Pentecost with community participation during both the Mass and afterwards at a shared Brunch highlighting our cultural culinary diversity.  This is now becoming a much-loved parish tradition and part of our culture of hospitality. 
Our Mass  included prayers prayed in different languages, hymns from different countries and  our live music was led by Eddy Tutoe at the 10.00am Mass.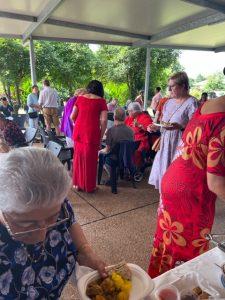 Sunday 8th May – Mother's Day
Today we celebrated Mother's Day, Fr John's and Margaret's Birthdays and the Baptism of little Finn.
Thank you to all who donated and put together the roses for our mothers and grandmothers.  Roses were also distributed to the two Aged Care Facilities in our parish.
Another great St Therese's Parish Community celebration.  Many thanks to all who contributed and helped this celebration.
SUNDAY, 3RD OCTOBER – CELEBRATION OF OUR PATRON SAINT Thérèse of Lisieux
SUNDAY, 20th JUNE –  Celebration to mark the 20th anniversary of our new church  
 Our beautiful church of St Thérèse was blessed and officially opened on 17th June 2001.  As a parish community we celebrated the occasion during and after the 9:30 a.m. Mass on Sunday 20th June 2021. The Mass was concelebrated by Fr Michael, Fr Karel and Fr McGrath
As part of that day's liturgy we remembered all parishioners involved in the construction and blessing of the church – those who remain with us and of course those who now rest in God's care.
Following the Mass, we came together  once again for a COVID-safe morning tea. Parishioners were invited to bring plates of food or nibbles for all to share.
We recognised our existing parishioners and their departed loved ones who were involved at that time in 2001.  In part, we invited any who would like to participate in the liturgies of the day (as commentators, scripture readers, offertory procession, etc)
We came together on this Sunday to thank the Lord for our beautiful church, to celebrate its opening and to honour those who in any way contributed to God's building in which we present parishioners are now able to worship peacefully and respectfully.
Pentecost Sunday 2021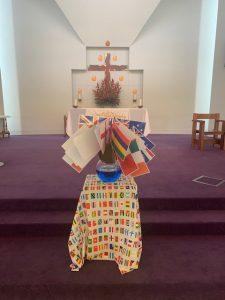 Mother's Day 2021
Our Forest Garden blooms
Easter 2021
A joyous Birthday Celebration
Christmas 2020
Columbarium Installation – 27th October 2020
Blessing of Animals – Sunday 4th October
Columbarium and Memorial Wall – Turning of the Sod – Sunday 27th September
Edmonton Parish – Forest Garden:  by Albert Ting)
Back in September 2019, an idea arose to establish a special garden on unused land in front of the parish church at Bentley Park. It wasn't until May this year that the idea grew closer to reality. Impacts from COVID-19 gave us the opportunity to begin the project in earnest – which also involved removing a large number of old palm trees from the property, and establishing a new 'welcome' garden at the entrance to the church.
The Forest Garden takes up 400 square metres of former sugar cane land and brings it back into productivity. More than 100 new trees, shrubs and grasses have been returned to the property; the majority in the Forest Garden proper.
The project has taken a willing team of volunteer parishioners and contract labour over four months to bring the garden to its current stage … awaiting the spring rains and warmth. The majority of planting and raw materials have been donated, and carry on a rich parish tradition to look after the gardens to provide a hospitable environment to all who visit the parish.
On Sunday 6 September, the first Sunday of the Season of Creation 2020, we commemorated and blessed the garden, and also planted a tree in honour of Elaine and Lou Piccone who were long-time and dedicated parishioners and local residents. A special plaque was unveiled by Joe Chellemi and Franz Honnef (elders in the community, who gave so much of their time and energy to the gardens over the years) and by Eliza Wood and Daniel Shay, three generations their junior, who will see the gardens grown in stature, fertility and beauty.
The plaque reads:
Our Forest Garden celebrates our living response to the call by Pope Francis for all Catholic people to join other brothers and sisters of faith and good will
in honouring the Seasons of Creation.  The idea was born from our celebrations during the Season of Creation 2019.  It has grown as a mighty statement
of our interrelationship with all creation, and a testament to the many people who provided and continue to provide support, time, resources and prayer for this life-giving project.
The garden was established with trees and plants native or familiar to the area; providing safety, shelter and some food for the weary visitor; human and other.
Our Forest Garden was commemorated during the Season of Creation 2020, amid the COVID-19 pandemic, when we learned again of our frailty, and of our need to befriend nature in new ways.
 Edmonton Catholic Parish – 6 September, 2020
Blessing of a Quarry
Our three gardens…..almost complete!
A flying visit!June 5 – World Environment Day – The students of St Therese's School make a donation towards the Forest Garden in progress
Work begins on the front garden of the church
Mothers' Day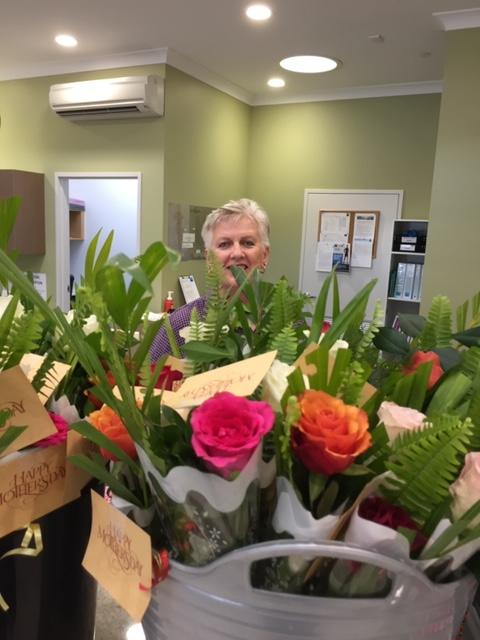 Residents from Edmonton Gardens and Bupa Aged Care enjoying Mother Day flowers gifted from our Parish
Anointing with Chrism
Franz is well after two operations and is at home with lovely Erica.  The flowers…..a gift from the parish (Etita's handiwork)
Albert, Agnes and Etita working off a heavy roast lunch!
John – behind the scenes live-streaming on Sunday morning – no stress here!!
Hello from Fr John – cup in hand, food near by – to celebrate Anzac Day
Anzac Day was celebrated a little differently this year but we did our best – this is how the students of St Therese's remembered those who have died
We have loved having Sr Mary back in our community for a short time
Variation of a street party – what the locals in the 'Pecotich' neighbourhood call a 'gutter party'
A Kup-murri (food cooked in an underground oven) a special way to celebrate the birthday of Patsy and Lou's son
In lockdown – Albert finally completing a project that he started 14 years ago!
Loletta loving life with the birth of her first grandson Phoenix
Tony and Doris Fava – guess who has 'green thumbs' – magnificent Tony!
John F keeping fit lockdown style under the watchful eye of his trainer the crocodile!
Etita – doing what she does best – honoring God with her wonderful gift of creativity.
Fr Karel hard at work putting up the parish signs – not!  Thank you Terry
Susan Reys – Artist – sealing her beautiful piece of art 'Come to the Water' working from the Parish Centre
We thank the Shay family for sharing some recent moments with us: celebrating live stream Palm/Passion Sunday Mass in the parish … celebrating their Seder (Passover) experiences on Holy Thursday (with nanna Bev on line from Cooktown), Baptism Candles alight from John, Daniel, Stephanie, Sarah, Jessica and Joshua, and Wedding Day candle alight from John and Mikaela) … a great Easter fire … some well-earned back yard camping … and a birthday celebration to round it all off with a smile. Alleluia!

As we usually are!
The work of the Gospel in this Diocese of Cairns was active in the lives of people in this region well before the parish was officially proclaimed in in 1965. It all began at Edmonton, a small settlement on the Bruce Highway in the southern corridor from Cairns, Far North Queensland. By 1990 the parish complex (including the church, parish centre and residence, a school and a convent) moved to the neighbouring Bentley Park.
(See more in A Very Brief Overview at the History Project Blog.) History Project Blog)
We are a multicultural community, with people settling here from across the world. We celebrate our diversity, and are deeply embedded in our local communities.
In our 2019 Parish Assembly, we identified a number of imperatives that will help us to face and look beyond ourselves: doing more about our formation as individuals and a community who profess faith in Jesus the Christ; embedding our culture of hospitality to all life; and reaching out to others as their need demands.
We have produced the attached 'Who's Who in the Parish' to provide easier access to the people responsible for specific parish activities.